I took a very LONG break from blogging. I use this blog as an outlet and to let others in my life know if I've found products/books/activities/recipes worth sharing. Also as a little peek into our everyday lives. I decided now is the perfect time to get back in the swing of things with the holidays fast approaching. I will be posting a series of my favorite ideas for Christmas gifts.
I decided to share some of my favorite picture books!! A picture book is a great gift for any of the kids in your life. My ten year old will still sit and listen to "story time" if the book is entertaining enough.
1.
The Book with No Pictures by BJ Novak
: Go ahead Mom, Dad, Aunt, Uncle, Grammy or Grampy. Make a complete fool of yourself and have the kids cracking up as you turn the pages. You MUST say EVERY word that is printed on EVERY page. This book is a crowd pleaser.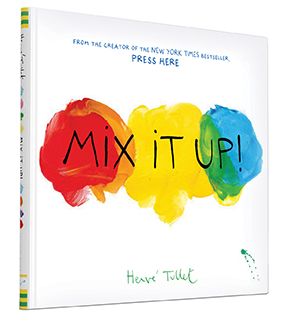 2.
Mix it Up by Herve Tullet
: Perfect for preschool age kids. It engages them on every page. Go ahead and mix up that paint kid, shake that book.
3.
The Day the Crayons Quit by Drew Daywalt
: Crayons with personality! By far one of my most favorite story time books. The kids will get a kick out of every crayons complaint.
Hug Machine by Scott Campbell
: Because kids find it hilarious to hug inanimate objects. Don't forget to let the kids get up close and personal with the hug machine on the last page.
The True Story of the Three Little Pigs by Jon Scieszka
: Find out what really happened and who the real villain is..the pigs or the wolf?
In My Heart: A Book of Feelings by Jo Witek
: A "must buy" for me this season. The illustrations on each page alone sold me. What makes this book a winner is the way the author perfectly describes each feeling from a child's perspective in a way they will understand and enjoy.
And for a little bonus.. how cute are the illustrations?
Julia's House for Lost Creatures by Ben Hatke
: Julia gains a big monster family. I loved this book because of the great sounds the monsters make while knocking on the front door. Your kids will get a kick out of you saying them all and the illustrations are beautiful.
Is there a Dog in This Book? by Viviane Schwarz
: A story of how three scared cats (Tiny, Moonpie, and Andre) fall in love with a dog. Features flaps and hidden pictures for the kids to lift. The personalities of the three cats are spot on.
Fancy Nancy and the Mermaid Ballet by Jane O'Connor
: By far one of my favorite book series. The illustrations are beautiful and I totally prefer these over the popular series Pinkalicious. Nancy absolutely has the fanciest covers with beautiful glitter sprinkled all over. Obviously a girl-oriented book series but I'm sure your little guy will get a kick out of the situations Nancy gets into.
The Secret life of Squirrels by Nancy Rose
: One of my favorite book discoveries this season. Who doesn't love a squirrel just going about his day…ya know mailing snail mail..ironing his shirts. Each picture is superb and will be entertaining even for the older kids. I've seen so many adults stopping and reading the whole book.